Browse Executive Interviews
Subject wise
Publishing Year
Publishing Year
Interview with Michael Hammer on Change Management
June 2007 - By Dr. Nagendra V Chowdary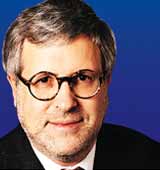 Michael Hammer is the driving force behind business process revolution. He is the originator of both business reengineering and the process enterprise, concepts that have changed forever, how businesses around the world function. Thousands of companies have turned his ideas into practice and profit.
Dr. Hammer is the author of four books, including the international best-seller Reengineering the Corporation, which Forbes ranked as one of the three most important business books of the past twenty years. His latest book is
The Agenda: What Every Business Must Do to Dominate the Decade. His articles have appeared in periodicals from Harvard Business Review to The Economist and his work has been featured in every major business publication

An engineer by training, Dr. Hammer's research and teachings focus on how to transform business operations; his work is relentlessly pragmatic and immediately applicable. Dr. Hammer was for many years a professor of computer science at the Massachusetts Institute of Technology and is currently a Visiting Professor at MIT and a
Fellow at Oxford University. He is founder of several hightechnology companies and was named by Time as one of America's twenty-five most influential individuals. He can be reached at mhammer
Useful for Understanding of:
Change Management
Deep Change
Operational Innovation vs Operational Improvement
Operational Innovation vs Product Innovation
Overcoming organisational Inertia
Implementing Operational Innovation.
| | |
| --- | --- |
| Originally Published in | Effective Executive, IUP |
| Effective Executive Reference No. | 03M-2007-06-09-06 |
| IBSCDC Reference No. | INT0003 |
| Year and Month of Publication | June 2007 |
| Keywords | Michael Hammer, Change Management, Deep Change, Operational Innovation vs Operational Improvement, Operational Innovation vs Product Innovation, Overcoming organisational Inertia, Implementing Operational Innovation |
1. Change Management Case Studies
2. ICMR Case Collection
3. Case Study Volumes