Browse Executive Interviews
By Subject
Publishing Year
Publishing Year
Interview with Sam Kogan on Innovation
November 2006 - By Dr. Nagendra V Chowdary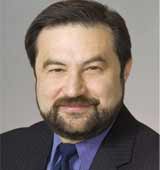 Sam Kogan has been President & Chief Operating Officer of GEN3 Partners since December 2003 and is in charge of the firm's daily operations. He has been in innovation consulting for more than 25 years and has extensive experience in scientific research and development, having led research programs at ICI and Plastpolymer Corp.
Before joining GEN3 Partners, Dr. Kogan was chief operating officer and cofounder of Pragmatic Vision International. In addition to overseeing the firm's operations, he also helped develop client management strategies in the US, Europe and Pacific Rim.
| | |
| --- | --- |
| Prior to co-founding Pragmatic Vision in 2000 he was director of innovation consulting services at Invention Machine Corp. He managed more than 100 projects and conducted innovation training seminars for a wide range of international companies. He has a Ph.D. in material science from Institute of Macromolecular Science, Leningrad, Russia and an M.S. cum laude in applied physics from Polytechnic University in Leningrad. Dr. Kogan is the author of more than 50 articles and patents. He is also a certified TRIZ and Six-Sigma specialist. | |
As Innovation is becoming increasingly important within industry, the challenge to make Innovation an organizational discipline will be a top executive priority. Dr. Kogan understands these demands and by leveraging his scientific background with his business insights he has led GEN3 Partners to develop the G3: Innovation Discipline (G3: ID). Working with his colleagues at GEN3 Partners, Kogan has combined his knowledge with leading thought leaders in TRIZ, Six Sigma, Lean Design and other common protocols.
Along with Michael Treacy, Dr. Kogan has created G3:ID, an integrated process for product innovation. The G3: Innovation Discipline integrates Business Insights, Innovation Leadership and Product Innovation tools and methodologies that provide a complete corporate process. His work is currently being adopted by companies such as Procter & Gamble, Nippon Chemi Con, Chiquita, Moen, Honda, Motorola, Hilti and other leading product companies. His work has led these and other companies to achieve predictable product innovations leading to strategic growth and sustainable competitive advantage.
His research on challenging the current way in which companies view innovation and define innovation provides insight as to why product innovation does not work today. Using scientific and strategic business analysis he has co-developed a discipline including the tools and techniques to successfully use innovation to achieve corporate goals.
Dr. Kogan speaks frequently on the evolution, revolution and transformation of innovation and product development processes. Through case example and scientific discussion he weaves together a compelling story for growth and advantage in business. Innovation is no longer a simplistic viewpoint about the creation of ideas. It is now the fact-based approach to implementing an innovation process that will build measurable results.
Useful for Understanding of:
Innovation
Types of Innovation
Disciplined Approach
Organisational change
Continuous Value Creation.
| | |
| --- | --- |
| Originally Published in | Effective Executive, IUP |
| Effective Executive Reference No. | 03M-2006-11-06-06 |
| IBSCDC Reference No. | INT0033 |
| Year and Month of Publication | November 2006 |
| Keywords | Dr. Sam Kogan, GEN3, Innovation, Types of Innovation, Disciplined Approach, Organisational change, Continuous Value Creation |
1. ICMR Innovation Case Studies
2. ICMR Case Collection
3. Case Study Volumes