Browse Executive Interviews
By Subject
Publishing Year
Publishing Year
Interview with Gaurav Bhalla on Co-Creation
March 2010 - By Dr. Nagendra V Chowdary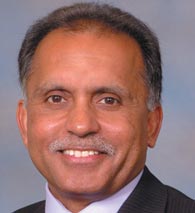 Gaurav Bhalla has 30+ years of global experience helping companies implement innovation, strategy, marketing, and business growth programs. He has worked and consulted with companies in over 25 countries in the Americas, Europe, and Australasia. He has experienced the business world as a corporate executive, business consultant, entrepreneur, and educator. His professional experience covers the Healthcare, Pharmaceuticals, Technology, Financial services, Education, and Consumer Packaged Goods sectors. Currently, he is the CEO of Knowledge Kinetics, a customer value innovation company. HBR carried his co-authored article on Rethinking Marketing, and his book, Collaboration and Co-Creation: New Platforms for Marketing and Innovation, will be published by Springer in the Fall of 2010.
Useful for Understanding of:
Co- Creation
Customer Involvement
Personalization Vs Customization
Value propositions & value Creation
Leveraging on Customer competencies.
| | |
| --- | --- |
| Originally Published in | Effective Executive, IUP |
| Effective Executive Reference No. | 03M-2010-03-07-06 |
| IBSCDC Reference No. | INT0121 |
| Year and Month of Publication | March 2010 |
| Keywords | Gaurav Bhalla, Co- Creation, Future of Competition, C. K. Prahlad, Venkat RamaSwamy, Value Creation, Co- Creation as Competitive advantage, Customer Competencies, Rethinking Marketing, Collabration & Co- Creation |
Related Links
Gaurav Bhalla's weblinks
Related Case Studies
Ad