Browse Executive Interviews
By Subject
Publishing Year
Publishing Year
Interview with James M Higgins on Strategy Execution
September 2008 - By Dr. Nagendra V Chowdary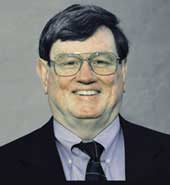 James M Higgins is Cornell Professor of Innovation Management at Crummer Graduate School of Business, Rollins College Florida. He has consulted and/or engaged in executive development programs on strategy, leadership, innovation, change, and emotional intelligence with numerous businesses including: ABB Power R&DRaleigh, Catalina Marketing, Coca-Cola Research and Engineering Development- Atlanta, Convergys-Cincinnati (formerly CBIS), ID Forum-Denmark, Kirchman Corporation, Leigh Hospital, Neighborly Care Service, Olsten-Kimberly Healthcare, Skopbank of Helsinki, Sun Trust Banks, several divisions of Walt Disney Companies, and a number of local and regional firms including law firms, manufacturers, and hospitals.
He developed the Innovation Quotient Inventory, which measures the context for innovation in an organization. He is also the author of the Innovation Performance Inventory which explains how to measure a firm's innovation performance, and Innovation Quotient Inventory: Manager's Assessment which helps to measure a manager's performance in providing the context for innovation.

He is the author/coauthor of six college textbooks on management, human relations and strategy including The Management Challenge; and Strategic Management: Text and Cases with Julian Vincze.
He is also the author of six trade books on creativity and innovation 101 Creative Problem Solving Technique,(1st and revised editions); Innovate or Evaporate ; Escape from the Maze; and with Gerold E. Wiese, InnovationsStrategien and InnovationsManagement, Germanized versions of 101 Creative Problem Solving Techniques and Innovate or Evaporate respectively.
Higgins was awarded for his teaching, publications, and services with the George D. and Harriett W. Cornell Professorship (endowed chair) in Innovation Management in the spring of 2004.
He also won the Welch Award for overall performance and service to the Crummer School in 2002 and in 1987.
Useful for Understanding of:
New practices in strategy formulation and strategy execution
8 S of successful strategy execution
Strategy execution and cross functional issues
Critical success factor for effective strategy implementation
Role of leadership in strategy execution
| | |
| --- | --- |
| Originally Published in | Effective Executive, IUP |
| Effective Executive Reference No. | 03M-2008-09-07-06 |
| IBSCDC Reference No. | INT0039 |
| Year and Month of Publication | September 2008 |
| Keywords | Dr James M Higgins, New practices in strategy formulation and strategy execution, 8 S of successful strategy execution, Strategy execution and cross functional issues, Critical success factor for effective strategy implementation, Role of leadership in strategy execution |
1. Business Strategy Case Studies
2. ICMR Case Collection
3. Case Study Volumes