Browse Executive Interviews
Subject wise
Publishing Year
Publishing Year
Interview with Michael Treacy on Innovation
November 2006 - By Dr. Nagendra V Chowdary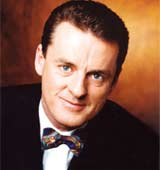 Michael Treacy Since the 1990s, Michael Treacy has been regarded as one of the world's leading experts on corporate strategies for growth, and more recently has become noted for his ideas on the role of product innovation in growth strategies. He has co-authored one of the bestselling business books of the 1990s, The Discipline of Market Leaders. He published his most recent book, Double-Digit Growth, in September 2003. The book has appeared on the bestseller lists compiled by BusinessWeek and The Wall Street Journal.
Treacy co founded GEN3 Partners in late 1999 with Jim Sims and has been the firm's chief strategy officer. In that role, he has been responsible for helping chart the firm's growth strategy, identifying the service offerings, and developing client relationships.

His work with GEN3 Partners has led to the development of a unique point of view on the success and failure of product innovation initiatives. Through Treacy's expertise in revenue growth and innovation, he has identified areas in which innovation is not fully understood, is not deployed with a corporate process and lacks the ability to identify what to
innovate on. Developed in conjunction with client engagements, industry research and market trends, these views are providing insight for organizations that are challenged to achieve growth and competitive advantage.
His research led to his codeveloping the G3: Innovation Discipline (G3:ID), which is the leading methodology for dramatically increasing the impact, speed, and productivity of new product development. His structured analysis and thought leadership has created a comprehensive methodology integrating his expertise and knowledge on Growth Strategies, Market Leadership Strategies and Management Disciplines.
Treacy has also supported GEN3 Ventures, a fund dedicated to identifying and growing new companies based on technology and product breakthroughs.
Prior to GEN3 Partners, Treacy built a strategy consulting firm, Treacy & Co., which served companies in telecommunications, industrial products, financial services, transportation and retailing. He has also worked with one of the fastestgrowing consulting firms of the 1990s, CSC Index, on research and development of its strategy consulting practice.
Treacy is a popular speaker at major corporate and business association events. Throughout the 1980s, he was a professor of management at the MIT Sloan School of Management. He has an engineering degree from the University of Toronto and a Ph.D. from MIT.
Useful for Understanding of:
Customer Intimacy and other Value Disciplines
Product Quality, Operational Excellence and Customer Intimacy
Critical Success Factors for Nurturing Innovation Culture
The Relationship between National Culture and Innovation Culture.
| | |
| --- | --- |
| Originally Published in | Effective Executive, IUP |
| Effective Executive Reference No. | 03M-2006-11-15-06 |
| IBSCDC Reference No. | INT0017 |
| Year and Month of Publication | November 2006 |
| Keywords | Michael Treacy, 'Customer Intimacy and other Value Disciplines', Product Quality, Operational Excellence and Customer Intimacy, Critical Success Factors for Nurturing Innovation Culture, The Relationship between National Culture and Innovation Culture |
1. ICMR Innovation Case Studies
2. ICMR Case Collection
3. Case Study Volumes