Browse Executive Interviews
Subject wise
Publishing Year
Publishing Year
Interview with Michael Roberto on Change Management
June 2007 - By Dr. Nagendra V Chowdary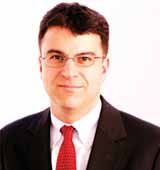 Michael Roberto is the Trustee Professor of Management at Bryant University in Smithfield, RI, where he teaches leadership, managerial decision-making and business strategy. He joined the tenured faculty at Bryant after serving for six years on the faculty at Harvard Business School.
He also has been a Visiting Associate Professor of Management at New York University's Stern School of Business
Professor Roberto's research focuses on strategic decision-making processes and senior management teams.
More recently, he has studied why catastrophic group or organizational failures happen, such as the Columbia Space Shuttle accident and the 1996 Mount Everest tragedy.

He has published articles based upon his research in the Harvard Business Review, California Management Review, MIT Sloan Management Review, The Leadership Quarterly, Group and Organization Management, and Ivey Business Journal.

Professor Roberto's research has earned several major awards. His 2004 article, "Strategic Decision-Making Processes: Beyond the Efficiency-Consensus Tradeoff",
was selected by Emerald Management Reviews as one of the top 50 management articles of 2004, from among 20,000 articles reviewed by that organization in that year. His book, Why Great Leaders Don't Take Yes For An Answer, was named one of the top 10 business books of 2005 by The Globe and Mail, Canada's largest daily newspaper. His multimedia case study about the 2003 space shuttle accident, titled Columbia's Final Mission, earned the software industry's prestigious Codie Award in 2006 for Best Postsecondary Education Curriculum Solution. Finally, an article based upon his research earned him the Robert Litschert Best Doctoral Student Paper Award in the year 2000 in the Academy of Management's Business Policy Division. This paper was published in the Academy of Management's Best Paper Proceedings.
Professor Roberto has taught in the leadership development programs and consulted at a number of firms including Morgan Stanley, The Home Depot, Mars, Novartis, The World Bank, Johnson & Johnson, Lockheed Martin, Level 3 Communications, Royal Caribbean Cruises, Jabil, Corporate Executive Board and The Advisory Board. He has also presented at numerous government organizations including NASA, EPA and TSA. Over the past three years, Professor Roberto also has served on the faculty at the Nomura School of Advanced Management in Tokyo, where he teaches in an executive education program each summer.
Professor Roberto received an A.B. with honors from Harvard College in 1991. He earned an MBA with high distinction from Harvard Business School in 1995, graduating as a George F Baker Scholar. He also received his D.B.A. from the Harvard Business School in 2000. While pursuing graduate studies at Harvard, he taught the introductory undergraduate course in economic theory for two years and won the Allyn Young Prize for Teaching in Economics on each occasion.
Prior to earning his doctorate, Professor Roberto worked as a financial analyst at General Dynamics, where he evaluated the company's performance on nuclear submarine programs. In addition,he worked as a project manager at Staples Inc., where he played a role in the company's acquisition integration efforts.
In his spare time, he enjoys gardening, running, hiking and cooking. He lives in Holliston, Massachusetts with his wife, Kristin and his two daughters, Grace and Celia.
Useful for Understanding of:
Change through Persuasion
Resistance to Change
Psychology of Resistance
Turnaround story of Beth Israel Deaconess Medical Center (BIDMC)
Identifying destructive Organisational Dynamics
Key Constituents of Change Management Program.
| | |
| --- | --- |
| Originally Published in | Effective Executive, IUP |
| Effective Executive Reference No. | 03M-2007-06-13-06 |
| IBSCDC Reference No. | INT0010 |
| Year and Month of Publication | June 2007 |
| Keywords | Michael Roberto, Change through Persuasion, Resistance to Change, Psychology of Resistance, Turnaround story of Beth Israel Deaconess Medical Center (BIDMC), Identifying destructive Organizational Dynamics, Key Constituents of Change Management Program |
1. Change Management Case Studies
2. ICMR Case Collection
3. Case Study Volumes
Related Links
Books by Prof Michael Roberto
Professor Michael Roberto's weblinks
Related Case Studies