Browse Executive Interviews
Subject wise
Publishing Year
Publishing Year
Interview with Robert A Burgelman on Corporate Entrepreneurship
April 2007 - By Dr. Nagendra V Chowdary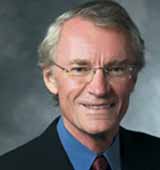 Robert A Burgelman is the Edmund W Littlefield Professor of Management and Director of the Stanford Executive Program of the Stanford University Graduate School of Business. He joined Stanford Business School in 1981and teaches courses in "Strategic Management of Technology and Innovation" and "Strategy and Action in the Information Processing Industry." Previously, he was on the faculties of Antwerp University (Belgium), New York University, and Harvard Business School (as a Marvin Bower Fellow). He holds a licenciate degree in Applied Economics from Antwerp University (Belgium, 1969), and an MA in Sociology
(1978) and a Ph.D. in Management of Organizations (1980) from Columbia University, where he studied as a European Doctoral Fellow (Ford Foundation) and ICM Fellow (Belgium). In 2003 he received an honorary doctorate from the Copenhagen Business School for his contribution to the study of corporate innovation.

Prof. Burgelman's research concerns the role of strategy in firm evolution. He has studied, in particular the strategic processes involved in and the adaptive consequences of internal corporate venturing, strategic business exit, and coevolutionary lock-in. His current
research focuses on complex strategic integration in multibusiness firms and on nonlinear strategic dynamics in organizational evolution. He is the author of many articles in leading academic and professional journals. He is the author of Strategy is Destiny: How Strategy-Making Shapes a Company's Future (2002). He is a co-author of Inside Corporate Innovation: Strategy, Structure, and Managerial Skills (1986), and Strategic Management of Technology and Innovation (4th edition, 2004), the leading textbook in the field; and of Strategic Dynamics: Concepts and Cases (2006). During 1988-2002, he served as co-editor of Research on Technological Innovation, Management and Policy (JAI Press). Prof. Burgelman has taught executive programs and led senior and top management seminars for major companies worldwide. He has served as an adviser to company leaders, and on boards of directors and advisory boards of several hightechnology companies.

He can also be reached at burgelman_robert@gsb.stanford.edu.
Useful for Understanding of:
Different Forms (Schools) of Entrepreneurship
Enabling Factors for Corporate Entrepreneurship
Strategic Importance and Operational Relatedness as two Dimensions of Identifying new Ventures
Roots of Corporate Entrepreneurship
Corporate Entrepreneurship in Family Business.
| | |
| --- | --- |
| Originally Published in | Effective Executive, IUP |
| Effective Executive Reference No. | 03M-2007-04-04-06 |
| IBSCDC Reference No. | INT0006 |
| Year and Month of Publication | April 2007 |
| Keywords | Robert A Burgelman, Different Forms (Schools) of Entrepreneurship, Enabling Factors for Corporate Entrepreneurship, Strategic Importance and Operational Relatedness as two Dimensions of Identifying new Ventures, Roots of Corporate Entrepreneurship, Corporate Entrepreneurship in Family Business |
1. Leadership and Entrepreneurship Case Studies
2. ICMR Case Collection
3. Case Study Volumes
Related Links
Books by Robert A Burgelman
Robert A Burgelman's weblinks
Related Case Studies