Browse Casebooks
Subjects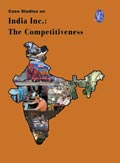 Case Studies on India Inc. - The Competitivesness
Edited by : K Ramanathan
ISBN : 978-81-314-2050-8
Price: $50 ( INR)
240 pages( Hardcover edition )
Snapshot of the casebook
The opening of Indian economy in the early 1990s not only made many multinational companies enter the Indian soil but also had many Indian companies explore the global opportunities. Today, apart from posing a tough competition to the multinational companies within the domestic boundary, the Indian companies are proving their feat in the international arena too.
ndian companies which were once considered by the multinationals as a boon for low cost production, have advanced in the learning curve. Indian companies are highly innovative. At the global level, many breakthrough innovations - ranging from automobiles to pharmaceuticals - are from the Indian companies. Not only that many Indian companies are making their presence felt in mergers and acquisitions at the global level. Many multinational giants are acquired by the Indian companies leading to cross-pollination of skill and giving access to larger economy of scale.
This book recounts the journey of many Indian companies that are soaring high in the global arena. It reflects the confidence of the Indian companies and their ability to compete with the global giants.
Cases featured in this book
Sample pages
Related Links
Useful links
Related Casebooks
c
Ad