Browse Casebooks
Subjects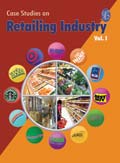 Case Studies on Retail Industry Vol.I
Edited by : T Sushma
ISBN : 978-81-314-2045-4
Price: $25 ( INR)
280 pages( Hardcover edition )
Snapshot of the casebook
Since 1990s, the global retail industry was padded by radical changes - mainly because of the transforming global economy and changing consumer behaviour. New retail formats and offerings were invented, upsetting traditional retailing. As the wealthiest markets saturated, retailers foraged for new growth zones. So, there was consolidation and in turn globalisation - two things that continue to define and shape the global retail industry.
With a huge customer base and vast untapped potential in the developing markets, these retailers started foraying into these markets. Flexibility, detailed analysis of its consumer base, getting the right retail format and product mix are the key success factors for the retailers in these markets. Some retailers imported their traditional business model while others customised it to suit the local environment. And for their saturated home markets, they identified innovation as the key differentiator.
But retailers, in the coming years, would have to tackle an altogether different setting where there would be limited growth opportunities and more demanding consumers. This book compiles case studies that help us understand how retail industry is evolving, the challenges it is facing and how the retailers are addressing these issues.
Cases featured in this book
Sample pages
Related Links
Useful links
Related Casebooks
c
Ad