Browse Casebooks
Subjects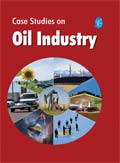 Case Studies on Oil Industry - Vol. I
Edited by : R Muthukumar
ISBN : 978-81-314-2039-3
Price: $50 ( INR)
340 pages( Hardcover edition )
Snapshot of the casebook
Scientists predict an upcoming and lasting shortage of world's conventional oil. Called 'Peak Oil', it can disrupt economies worldwide. Oil price swings can stagger stock markets. Thereby, making future growth barely certain. Actually what worsens the situation is the diminishing crude oil reserves. Already there are very limited oil stocks – annoying analysts about how this will turn out to be, if demand from rapidly emerging countries like China and India keeps swelling. This situation can balloon to such an extent that the world may not recover from its burst.
Needless to say, global oil firms got to change their strategies – to tackle the emerging industry trends and stay put in the market. Intense search is on for viable – maybe, even unconventional – alternatives to crude oil. Crude oil supplies are cutting short and spare capacity is becoming scarce. CEOs of oil giants got to key in their ideas and cut loose into new areas – say through mergers – to survive the competition in the market.
This book Case Studies on Oil Industry presents a panorama of case studies, dealing with an array of issues challenging the very foundations of the global oil industry. Some of them are expressly evoked – including dwindling supplies, common growth strategies of oil giants, mergers and acquisitions and corporate culture.
Cases featured in this book
Sample pages
Related Links
Useful links
Related Casebooks
c
Ad