Browse Executive Interviews
By Subject
Publishing Year
Publishing Year
Interview with Eileen Fischer on Steve Jobs
March 2010 - By Dr. Nagendra V Chowdary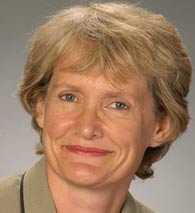 Eileen Fischer is a Professor of Marketing and the Anne and Max Tanenbaum Chair in Entrepreneurship and Family Enterprise. She is an active scholar in the fields of both entrepreneurship and consumer research; her work has been published in premier journals in both disciplines, including Journal of Consumer Research, Journal of Business Venturing, and Entrepreneurship Theory and Practice. Some of her work is at the intersection of the two fields, such as her current research on how reputations and brands emerge and evolve at the firm and at the individual level. In addition to her study of substantive topic areas, Professor Fischer maintains an active line of enquiry devoted to understanding how research contributions can be constructed using qualitative methodologies.
Professor Fischer obtained her PhD in Marketing and Organizational Behavior from Queen's University in 1988 and has been a faculty member of the Schulich School of Business at York University since that time. She has held a range of administrative positions in her faculty, including Associate Dean of Research, MBA Program Director, Marketing Area Coordinator, and Director of Entrepreneurial Studies. She is currently the Chair-Elect of the Entrepreneurship Division of the Academy of Management.
Useful for Understanding of:
The enigma of Steve Jobs
Leadership style of Steve Jobs
The Brand of Steve Jobs
Innovation at Apple.
| | |
| --- | --- |
| Originally Published in | Effective Executive, IUP |
| Effective Executive Reference No. | 03M-2010-03-13-06 |
| IBSCDC Reference No. | INT0123 |
| Year and Month of Publication | March 2010 |
| Keywords | Eileen Fischer, Steve Jobs,Apple Inc, Innovation @ Apple, Leadership Style of Steve Jobs, Andy Grove, Larry Ellison, iPod, iphone, iPad |
Related Links
Eileen Fischer's weblinks
Related Case Studies
Ad