Browse Executive Interviews
Subject wise
Publishing Year
Publishing Year
Interview with Gaurab Bhardwaj on Corporate Entrepreneurship
April 2007 - By Dr. Nagendra V Chowdary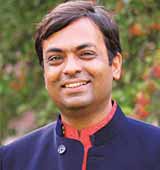 Gaurab Bhardwaj is an Assistant Professor of strategy and management at Babson College in Massachusetts, US. Babson is highly-ranked among global business schools for entrepreneurship and executive education.
Prof. Bhardwaj's research, teaching, and consulting expertise are in strategy, innovation, and entrepreneurship in science based companies, especially those in biotechnology, pharmaceuticals, medical devices and diagnostics, agriculture, and chemicals. The National Science
Foundation and the Eleutherian Mills Hagley Foundation have funded his on going research program on the "Management of Distant Returns" where he is investigating how people make decisions that are highly uncertain and ambiguous, and whose outcomes take shape over many years. His research, writing, and professional presentations are on discovery processes of corporate scientists, science and strategy for achieving long term corporate growth, and anticipatory innovation and entrepreneurship.

His work has involved scientists and managers in pharmaceutical, agriculture, and
biotechnology businesses. He is currently working with the founder of a biotechnology company on innovations that anticipate markets.
Prof. Bhardwaj's research has been published in the journals like Management Science, Expert Opinion on Drug Discovery, Chemical Heritage, BioExecutive International, and as a chapter in the book Innovating Strategy Process.
Prof. Bhardwaj is the faculty director of Babson's executive education program, "Bio Pharma: Mastering the Business of Science," which is targeted at bio pharma scientists and managers. In addition to teaching competition and strategy in this program, he teaches in the MBA program and in custom programs for EMC and Lucent Technologies.
After obtaining his BA from Fergusson College and MA from the University of Mumbai, Prof. Bhardwaj received an MBA from Northeastern University (US) and a Ph.D. from the University of Pittsburgh (US).
He can also be reached at gbhardwaj@babson.edu
Useful for Understanding of:
Definition of Corporate Entrepreneurship
Costs and Benefits of Corporate Entrepreneurship
Factors responsible for failure of Corporate Entrepreneurship initiatives
Best practices for Corporate Entrepreneurship
Corporate Entrepreneurship in Family Businesses
Fostering an Entrepreneurial Culture.
| | |
| --- | --- |
| Originally Published in | Effective Executive, IUP |
| Effective Executive Reference No. | 03M-2007-04-07-06 |
| IBSCDC Reference No. | INT0029 |
| Year and Month of Publication | April 2007 |
| Keywords | Gaurab Bhardwaj, Definition of Corporate Entrepreneurship, Costs and Benefits of Corporate Entrepreneurship, Factors responsible for failure of Corporate Entrepreneurship initiatives, Best practices for Corporate Entrepreneurship, Corporate Entrepreneurship in Family Businesses, Fostering an Entrepreneurial Culture |
1. Leadership and Entrepreneurship Case Studies
2. ICMR Case Collection
3. Case Study Volumes
Related Links
Related Case Studies