Browse Executive Interviews
By Subject
Publishing Year
Publishing Year
Interview with Lakshmi Narayanan on Indian IT Industry
March 2006 - By Dr. Nagendra V Chowdary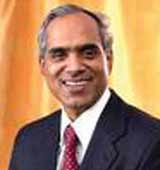 Lakshmi Narayanan has played a leading role in the global information technology industry formore than 25 years, managing divisions and business units in Europe, India and the US. Since joining Cognizant in 1994, he has been instrumental in formulating the company's strategy and building and managing the organization's development centers in India, where he is based. Being a member of Cognizant's Board of Directors, Lakshmi now spends evenmore time traveling extensively in the US and Europe to meet clients.
Client focus, Lakshmi believes, is Cognizant's defining value. "Our mission is to be known as the number one organization in the minds of our customers," he says. Throughout his career at Cognizant, Lakshmi has played a key role in creating a culture of openness and transparency and instilling a "can do, we never let you down" attitude.

"In the short-term," he says, "we will sustain the growth momentum that we have by solidifying and expanding the relationships we have with our existing customers.
We will also adjust the structure and empower our organization even more so that we can continuously drive measurable business benefits." Lakshmi began his career at Tata Consultancy Services, growing through the ranks from developer, to technologist, to program manager, to business leader. He was a regional head of Tata in India when he joined Cognizant as CTO. He holds a BS and MS in science and electronics from Bangalore University and an MBA from the Indian Institute of Science.
Useful for Understanding of:
Vision, Mission and Goals
Business Objectives
| | |
| --- | --- |
| Originally Published in | Global CEO, IUP |
| Global CEO Reference No. | 15M-2006-03-01-01 |
| IBSCDC Reference No. | INT0079 |
| Year and Month of Publication | March 2006 |
| Keywords | Lakshmi Narayanan, Vision Mission and Goals, Business Objectives |
1. Indian Industry Case Study
2. ICMR Case Collection
3. Case Study Volumes