Browse Executive Interviews
Subject wise
Publishing Year
Publishing Year
Interview with Mark Buchanan on 21st Century Organization
December 2007 - By Dr. Nagendra V Chowdary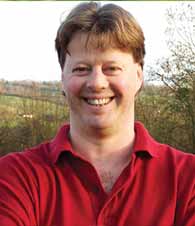 Mark Buchanan is an American physicist and author. He was formerly an editor with the international journal of science Nature, and the popular science magazine New Scientist. He has been a guest columnist for the New York Times, and currently writes a monthly column for the journal Nature Physics.
Buchanan's books and articles typically explore ideas of modern physics, with an emphasis on efforts to use novel concepts from physics to understand patterns and dynamics elsewhere, especially in biology or in the human world.
Key themes include the (often overlooked) importance of spontaneous order or self-organization in collective, complex systems.All of his work aims to bring technical advances in modern science to a broad, nontechnical audience, and to help stimulate the flow of ideas across disciplinary boundaries. Buchanan has authored three books: Ubiquity: The Science of History or Why the World is Simpler Than We Think (Weidenfeld & Nicolson, London, 2000); short-listed for the Guardian First Book Award.

Nexus: Small Worlds and the New Science of Networks (W.W.Norton&Co., NewYork, 2002); short-listed for the Aventis Science Writing Prize in 2003.
Useful for Understanding of:
Social Networks
21st Century Organisation
Organizational Effectiveness
Science of Subtle Signals
Removing Imperfect Knowledge of Organisations.
| | |
| --- | --- |
| Originally Published in | Effective Executive, IUP |
| Effective Executive Reference No. | 03M-2007-12-07-06 |
| IBSCDC Reference No. | INT0040 |
| Year and Month of Publication | December 2007 |
| Keywords | Mark Buchanan, Social Networks, 21st Century Organisation, Organizational Effectiveness, Science of Subtle Signals, Removing Imperfect Knowledge of Organisations |
1. Semco - A 'Maverick' Organization Case Study
2. ICMR Case Collection
3. Case Study Volumes
Related Links
Books by Mark Buchanan
Mark Buchanan's weblinks
Related Case Studies