Executive Interviews
on Leadership
on Change Management
on Global Strategy
on Corporate Entrepreneurship
on Multicultural Teams
on Family Business
on Strategy Execution
on Collaboration
Executive Interviews: Interview with Mark Buchanan on 21st Century Organization
December 2007 - By Dr. Nagendra V Chowdary

---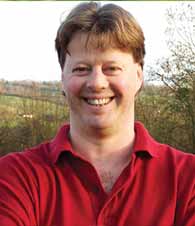 Mark Buchanan
American Physicist and Author

After all, it was Peter Drucker who advocated that, "because the purpose of business is to create and keep a customer, the business enterprise has two and only two basic functions: marketing and innovation. Marketing and innovation produce results; all the rest are costs. Marketing is the distinguishing, unique function of the business." Why should companies therefore focus on decoding the sensors? What relevance does it have either for marketing or innovation?
Both marketing and innovations depend on teams of people working well together.
The sensors, and the science built upon them, help us to understand those teams and their functions and problems. So this applies to marketing and innovation as well.
1. Semco - A 'Maverick' Organization Case Study
2. ICMR Case Collection
3. Case Study Volumes
---
The Interview was conducted by Dr. Nagendra V Chowdary, Consulting Editor, Effective Executive and Dean, IBSCDC, Hyderabad.
This Interview was originally published in Effective Executive, IUP, December 2007.
Copyright © December 2007, IBSCDC No part of this publication may be copied, reproduced or distributed, stored in a retrieval system, used in a spreadsheet, or transmitted in any form or medium electronic, mechanical, photocopying, recording, or otherwise without the permission of IBSCDC.
Related Links
Related Case Studies
Useful links