Browse Executive Interviews
Subject wise
Publishing Year
Publishing Year
Interview with Charles Spinosa on Strategy Execution
September 2008 - By Dr. Nagendra V Chowdary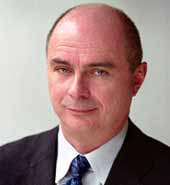 Charles Spinosa Over the last decade, Charles Spinosa, has developed a unique marketexpansion practice devoted to helping clients enter hard-to-penetrate markets by using service innovations. At its core, this practice helps clients make new, attractive anxiety-reducing promises to customers that enable brand extension, repositioning, growth of customer communities, the integration of new media and traditional marketing, and most importantly the alignment of internal company promises and culture with the external promise.
Some of the clients who have benefited from cultural innovation are: HBOS, Scottish and Southern Energy, ABBALSTOM, CEMEX, ADP, the Warner Music Group, AmericanCentury Funds, the San Francisco Chronicle, Celtic Football Club, Voith Siemens Hydro, Deutsche Bank and Bank of America.

Some of Charles Spinosa's publications are "Communicating with Customers", with Bobby Calder and David LeBrocquy in Kellogg on Advertising and Media, "Promise-based Management" with Don Sull in HBR (April 2007) and "Using Commitments to Manage across Units" again with Don Sull in MIT Sloan Management Review.
"Extending Scenario Planning into Transvaluations" appeared in Futures Research Quarterly (Spring 2005). "Developing Productive Customers in Emerging Markets" came out in the Summer 2003 California Management Review. "Strategies for Viral Marketing" with Maria Flores Letelier and Bobby Calder appeared in Kellogg on Integrated Marketing, (John Wiley & Sons, 2002). Charles introduced his cultural approach to understanding innovation in Disclosing New Worlds (MIT Press, 1997).
Charles has taught English literature at Miami University in Ohio, philosophy at the University of California, Berkeley, and published widely in both the fields. He earned a PhD from Berkeley and a BA from Columbia
Useful for Understanding of:
Promised-based approach to strategy execution
Promises and successful strategy execution
Qualities of good promise
Line of thinking in strategy making
Strategy formulation and strategy execution.
| | |
| --- | --- |
| Originally Published in | Effective Executive, IUP |
| Effective Executive Reference No. | 03M-2008-09-04-06 |
| IBSCDC Reference No. | INT0036 |
| Year and Month of Publication | September 2008 |
| Keywords | Charles Spinosa, Promised-based approach to strategy execution, Promises and successful strategy execution, Qualities of good promise, Line of thinking in strategy making, Strategy formulation and strategy execution |
1. Business Strategy Case Studies
2. ICMR Case Collection
3. Case Study Volumes
Related Links
Books by Charles Spinosa
Related Case Studies