Browse Executive Interviews
Subject wise
Publishing Year
Publishing Year
Interview with Pankaj Ghemawat on Global Strategy
January 2008 - By Dr. Nagendra V Chowdary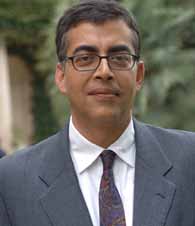 Pankaj Ghemawat is the Anselmo Rubiralta Professor of Global Strategy at IESE Business School and the Jaime and Josefina Chua Tiampo Professor of Business Administration (on leave) at the Harvard Business School. Professor Ghemawat earned his A.B. degree in Applied Mathematics from Harvard College, where he was elected to Phi Beta Kappa, and his Ph.D in Business Economics from Harvard University. He then worked as a consultant at McKinsey & Company in London before joining the Harvard Business School (HBS) faculty in 1983. In 1991, he was appointed the youngest full professor in HBS's history. He joined the IESE faculty in 2006.
| | |
| --- | --- |
| Professor Ghemawat's current teaching and research focus on globalization and strategy. He has developed a 30-session MBA course on the topic, chairs focused programs at IESE and at HBS on Getting Global Strategy Right, and has written more than 50 articles and case studies on the topic. His Regional Strategies for Global Leadership received the McKinsey Award for the best article published in the Harvard Business Review (HBR) in 2005. Other recent globalization-related publications include Managing Differences: The Central Challenge in Global Strategy, the lead article in the March 2007 issue of HBR,Why the World Isnt Flat in the March/April | |
2007 issue of Foreign Policy, and Global Integration ? Global Concentration (with Fariborz Ghadar), the lead article in the August 2006 issue of Industrial and Corporate Change. He has also begun a blog on global strategy, What in the World for Harvard Business Online.

Professor Ghemawats book, synthesizing and extending his work in this area, Redefining Global Strategy, will be published by Harvard Business School Press in September 2007. Samuel J. Palmisano, the Chairman and CEO of IBM, has supplied an advance characterization: Pankaj Ghemawat has created an important strategic guidebook for leaders of the 21st century globally integrated enterprise. His analytic framework is both visionary and pragmatic aware of the broader historic trajectories of globalization, but grounded in the real kinds of decisions business leaders have to make in the here and now. And his caveats about semiglobalization provide a salutary reminder that massive change of this kind doesn't happen overnight. By basing his analysis on realworld case studies and a mastery of economic data, Pankaj Ghemawat will help CEOs and leaders of institutions make smarter decisions on one of the most important challenges we all face.

Pankaj Ghemawats other books include Commitment, Games Businesses Play and Strategy and the Business Landscape. In addition, he is one of HBSs 10 best-selling case writers, serves as the Departmental Editor for Strategy at Management Science and, in 2007, was elected a fellow of the Academy of International Business.

He can also be reached at Pankaj@ghemawat.org
Useful for Understanding of:
Why world is not flat
Globalization
Global Strategy
Global Strategy Blunders
Chine vs India.
| | |
| --- | --- |
| Originally Published in | Effective Executive, IUP |
| Effective Executive Reference No. | 03M-2008-01-07-06 |
| IBSCDC Reference No. | INT0005 |
| Year and Month of Publication | January 2008 |
| Keywords | Pankaj Ghemawat, Why world is not flat, Globalization, Global Strategy, Global Strategy Blunders, Chine Vs India. |
1. Global Expansion Case Study
2. ICMR Case Collection
3. Case Study Volumes
Related Links
Books by Pankaj Ghemawat
Pankaj Ghemawat's weblinks
Related Case Studies