Browse Casebooks
Subjects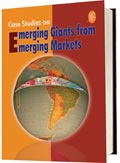 Case Studies on Emerging Giants from Emerging Markets
Edited by : Dr. Nagendra V Chowdary
ISBN : 978-81-314-1955-7
Price: $25 ( INR)
284 pages( Hardcover edition )
Snapshot of the casebook
Would anyone in 1995 have predicted that Lenovo would take over IBM's PC business? Who would have thought Mahindra & Mahindra would start selling Scorpio (an SUV) in South Africa and Spain? Would anyone have presupposed that a Brazilian company (InBev) would dominate the US beer industry? Belgium's InBev has completed its $52 billion acquisition of the maker of the iconic Budweiser beer, Anheuser-Busch. InBev overcame the last hurdle of China's regulatory authorities after Anheuser-Busch's shareholders approved the merger, thereby ending 156 years of Anheuser Busch's existence in St. Louis.
Some emerging giants compete in several countries, for instance, Chile's S.A.C.I.Falabella; China's Baosteel, Galanz, and Lenovo groups and Huawei Technologies; India's Infosys, NIIT, Dr.Reddy's Laboratories, Satyam Computers, Wipro and Tata Group; Israel's Teva Pharmaceuticals; Mexico's Cemex; Philippines' Jollibee Foods; and South Africa's SABMiller. Others operate mainly at home – for example, China's Alibaba.com and Wahaha Group; India's Bharti Televentures and ITC Limited, etc.
What strategies did these globally competitive businesses deploy to overcome the myriad obstacles that their home environments pose? Why and how did some of them move from their dominant positions at home to establish an international presence? Must every company from the emerging markets follow suit? What sequence of steps should aspiring giants take to build stronger businesses at home or to enter overseas market?
The case studies enlisted in this volume enable the readers to address these issues. There is no 'one-shoe-fits-all' strategy. However, the important issues concerning how these companies from emerging markets built their competitiveness in an otherwise lacklustre economies illustrates a befitting story.Moreover, all such illustrious examples are featured in this volume of cases.
Cases featured in this book
Sample pages
Related Links
Useful links
Related Casebooks
c
Ad