Browse Executive Interviews
By Subject
Publishing Year
Publishing Year
Interview with Kai-Alexander Schlevogt on Emerging Markets
February 2008 - By Dr. Nagendra V Chowdary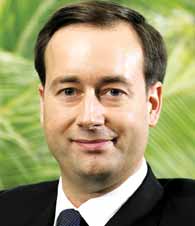 Kai Alexander Schlevogt is a professor of international strategy and leadership at the National University of Singapore (NUS) Business School. He serves as Program Director of the Nestle Global Leadership Program, delivered in association with London Business School (LBS). He was appointed as Fellow of the McKinsey & Co. Global Institute (MGI), San Francisco and Shanghai. He founded the Schlevogt Business School, the first school in Germany focusing on European-Chinese economic relationships, and served as its President. He also was appointed as the first regular foreign professor in the history of Peking University. He was a professor of strategic management and international business and senior research fellow at Peking University's Guanghua School of Management. He served as a Visiting Full Professor at the Henley Management College (UK). Kai- Alexander was also a senior faculty member at the Australian Graduate School of Management (AGSM), a joint venture of the University of New South Wales and the University of Sydney. Besides, he held two positions at Harvard University, one as Associate at the Harvard Fairbank Center for East Asian Research, another as Visiting Scholar at the Harvard Business School. He also served as a strategic management consultant for McKinsey & Co. in the Greater China Office, advising the Malaysian Prime Minister on how to develop a Multimedia Super Corridor (MSC). In the former Soviet Union, he was Country Manager for Colonia-Victoire (now: AXA Colonia) and Representative of the Association of German Insurers, in Russia advising the Russian Government on insurance legislation. A leading emerging markets expert, he has written three books— including The Art of Chinese Management (Oxford University Press)—and over one hundred articles. He is a regular TV commentator for Channel NewsAsia. Kai-Alexander holds a Ph.D. in Management Studies from the University of Oxford. He speaks fluent Chinese (teaching senior executives in Mandarin) and seven other world languages.
He can also be reached at schlevogt@schlevogt.com.
Useful for Understanding of:
The importance of china as an emerging market
Assessing legal framework in china
Prospects and believes of investing in china
Piracy and intellectual property rights in china.
Developing successful strategies for china.
| | |
| --- | --- |
| Originally Published in | Effective Executive, IUP |
| Effective Executive Reference No. | 03M-2008-02-08-06 |
| IBSCDC Reference No. | INT0055 |
| Year and Month of Publication | February 2008 |
| Keywords | Prof. Kai-Alexander Schlevogt, The importance of china as an emerging market, Assessing legal framework in china, Prospects and believes of investing in china, Piracy and intellectual property rights in china, Developing successful strategies for china |
Related Links
Kai-Alexander Schlevogt's weblinks
Related Case Studies
Ad