Browse Executive Interviews
Subject wise
Publishing Year
Publishing Year
Mark W Johnson on Business Model Innovation
April 2009 - By Dr. Nagendra V Chowdary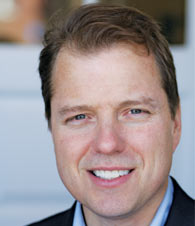 Mark W Johnson is Chairman and Co-Founder of Innosight, a strategic innovation consulting and research firm focused on helping companies and institutions innovate for new growth and transformation. He co-founded the firm with Harvard Business School professor and best-selling author on innovation, Clayton M Christensen. His consulting experience covers a broad range of Global 1000 companies in industries such as healthcare, aerospace/defense, commercial enterprise IT, energy, automotive, and consumer packaged goods. Mark's international résumé includes leadership in advising Singapore's government on innovation and entrepreneurship. His most recent work has focused on business model innovation, helping companies create and manage distinct new business models for new market growth and renewal. This work is the subject of a December 2008 Harvard Business Review article as well as a forthcoming book entitled Seizing the White Space: Business Model Innovation for Transformative Growth and Renewal, scheduled for release in January of 2010 by Harvard Business Press. Mark has also co-authored The Innovator's Guide to Growth (Harvard Business Press July 2008). Mark is a much requested authority and speaker on innovation, transformation, and business model change and has been a featured speaker at Fortune and Forbes innovation and leadership conferences and at other various industry conferences and forums. Prior to co-founding Innosight, Mark was a consultant at Booz | Allen | Hamilton, where he advised clients on managing innovation and comprehensive change programs. Prior to Booz | Allen | Hamilton, Mark was a commissioned officer in the United States Navy. Mark received his MBA from the Harvard Business School. He has a master's degree in civil engineering and engineering mechanics from Columbia University and a bachelor's degree in aerospace engineering from the US Naval Academy. He currently serves on the board of the US Naval Institute.
Useful for Understanding of:
Examples for business model innovation
Leadership initiative in creating/innovating business models
Difference between business model creation for small company and large company.
| | |
| --- | --- |
| Originally Published in | Effective Executive, IUP |
| Effective Executive Reference No. | 03M-2009-04-09-06 |
| IBSCDC Reference No. | INT0098 |
| Year and Month of Publication | April 2009 |
| Keywords | Mark W Johnson, Examples for business model innovation, Leadership initiative in creating/innovating business models, Difference between business model creation for small company and large company |
Related Links
Mark W Johnson weblinks
Related Case Studies
Ad