Browse Executive Interviews
By Subject
Publishing Year
Publishing Year
Interview with Vivekanadan on Bottom of the Pyramid
November 2008 - By Prema Ramachandran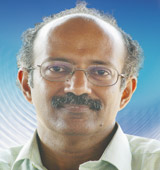 Vivekanadan is a Rural Manager with an extraordinary vision and commitment to the cause of the underprivileged fishermen community, whose entire professional life has been spent working for the fishermen and who intends to serve the less privileged much more in the days to come. He was, till recently, CEO of South Indian Federation of Fishermen Societies and is currently in the process of forming a Federation of Fishermen across the country, thus aiming to offer his services to the fishermen community at large.
| | |
| --- | --- |
| Vivek (as he is affectionately known among his peers and friends) took his degree in Mechanical Engineering from the prestigious Madras University in Tamil Nadu and instead of seeking greener pastures after his graduation, joined the first batch of Post Graduate Programme in Rural Management at the Institute of Rural Management, Anand , IRMA(Gujarat) in 1980 – the first of such an Institute in India. He joined the South Indian Federation of Fishermen Societies(SIFFS),Trivandrum in 1982 after | |
graduation from IRMA. Initially designated Marketing Manager, he became the Chief Executive of SIFFS in 1985. As the only professional and administrative head of the nascent SIFFS he guided its growth into the largest cooperative organization of small scale artisanal fishermen in the Non-Government sector in India. He was responsible for the introduction and commercialization of marine plywood boats as alternative to country boats, development of a wide range of boat models, R&D initiatives in artificial reefs, fishing gear improvements, safety at sea, etc. and a lot more.
He has been a part of various study teams for government agencies/international bodies like FAO and is currently engaged in coordinating a major cost and earnings study of Kerala fisheries. He writes extensively and has a number of publications in reputed journals. He has grown in stature to become a member of the Board of Governors of his Alma Mater. A scholar par excellence, a voracious reader whose interests range from development economics to Shakespeare, a social activist who always advocate the cause of the downtrodden, Vivek is a role model for any aspiring manager with a sense of social responsibility. An excellent speaker and conversationist, he has the remarkable quality of creating vibes in the minds of his audience. Vivek is uncharacteristically shy of self publicity, and prefers to continue his pioneering work with total dedication and sincerity of purpose.
He can also be reached at mbeer@hbs.edu
Useful for Understanding of:
South Indian Federation of Fishermen Society (SIFFS)
Struggle for the survival of traditional fisheries sector
Fisherman communities in the south
Comparison between traditional fisheries sector in India and other developed and developing countries.
| | |
| --- | --- |
| Originally Published in | Effective Executive, IUP |
| Effective Executive Reference No. | 03M-2008-11-10-06 |
| IBSCDC Reference No. | INT0027 |
| Year and Month of Publication | November 2008 |
| Keywords | Vivekanadan, South Indian Federation of Fishermen Society (SIFFS), Struggle for the survival of traditional fisheries sector, Fisherman communities in the south, Comparison between traditional fisheries sector in India and other developed and developing countries |
1. Base of the Pyramid Protocol Case Study
2. ICMR Case Collection
3. Case Study Volumes