Executive Interviews
on Leadership
on Change Management
on Global Strategy
on Corporate Entrepreneurship
on Multicultural Teams
on Family Business
on Strategy Execution
on Collaboration
Executive Interviews: Interview with Vivekanadan on Bottom of the Pyramid
November 2008 - By Prema Ramachandran

---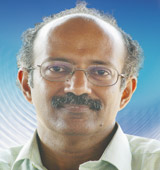 Vivekanadan
Former CEO of South Indian Federation of Fishermen Societies

The IRMA advertisement appeared at this time and I was straightaway attracted by it. A new institute, it was offering the opportunity to work for the rural poor as a professional with a good pay packet. It also offered a generous scholarship that made the education virtually free.When Imade it to the Interview stage, I found the Interviewitself very enjoyable and the interaction with the faculty members who Interviewed me convinced me that a new world of learning and discovery awaited me in Anand. So, I had no hesitation to take up the invitation when I was selected.

I see my choice of IRMA as actually the result of my personal inclinations to do something radical without giving up the comfort factor of a
career and decent pay.Thus the establishment of IRMA just when I had completed my course was clearly a chance factor that shaped my life. Perhaps it was not just chance, but destiny. The fact that my GRE results were lost in post and I got a copy of my results many months later seems to indicate that I was not given the kind of choices that would have created a dilemma in me. By the time the GRE mark list came, I was well into my first term in IRMA and having a whale of a time.

On completion of the prestigious IRMA PGDRM, when you had a choice of joining a corporate or already established NGO in a well paid post, what made you opt for working with the unorganized fishermen community with a meagre compensation?
The question of joining a corporate did not arise as my earlier answer indicates that I had no interest in a regular career in the corporate sector. Even if I had been so inclined, the opportunity did not present itself at that stage. In fact, none of my classmates from the first batch had that option. Remember, we had a "bond" to work for the "rural sector" for at least three years. One or two did "jump" the bond, but the rest of us did initially join the "designated organizations".

As far as choice of SIFFS is concerned, the profile of SIFFS was ideal for my ambitions.

During our IRMA course, we were taught to look at ourselves as "change agents" who use their knowledge and managerial skills to bring changes in society. Rural producer cooperatives were seen as important instruments to bring about change in the rural areas. At the end of the first year, we saw ourselves doing the kind of things that National Dairy Development Board's (NDDB's) "Spear Head Team" Leaders were involved in: going to rural areas and organizing rural producer coops in opposition to middlemen, traders and other vested interests. However, the second year with its greater emphasis on functional areas like marketing and finance,mademany of my classmates think in terms of careers in specific functional areas in federations or in the NDDB itself.

I was quite keen on the idea of organizing rural producers and the second year onlymade me look at the idea fromamuch larger perspective of "sectoral intervention" wherein one initiated interventions in new sectors other than milk and oilseeds in which Anand pattern coops were already established by the NDDB. The idea was to work with new producer groups that had not been organized as yet and a lot of creativity would be required to develop models for cooperatives and to replicate them. I was keen on a job that would give me an opportunity to work with new sectors or producer groups. I was not keen on working with established rural producer organizations and do a "maintenance" job.

In fact only two job offers came up in the placement that gave one the possibility of working in new sectors: (i) SIFFS and (ii) Fruit and Vegetable sector intervention to be initiated by NDDB. I had applied for both and was selected for both. However, I chose SIFFS over NDDB due to a belief that the fisheries sector would be more exciting/satisfying to work in and some doubts about the freedom that NDDB would give to fresh IRMA graduates to experiment and work in new sectors. This needs some explanation.

Though I had no previous familiarity with the fishing community, it was clearly one of the poor communities that looked very fascinating and one felt that an occupation related to the sea was very exciting and romantic. I also had a belief (based on an article I had come across in the IRMA library) that the marine fishing community was a lot more egalitarian than the agrarian communities that were the target of the milk cooperative movement. I was always a bit uneasy with the kind of contradictions one found in the milk societies of Amul wherein the Chairman would typically be a rich Patel who may not even touch the cow. Yet mere ownership of the cow ensured that he is labelled a "producer" and given the right of membership in the coop. A fishermen coop, in contrast (I believed then, and found it to be true subsequently), would have actual workers as members and leaders. Of course, there is the strong class contradiction in the fisheries sector between the "traditional fishermen" and the "mechanized boat owners". SIFFS has preferred to organize the traditional/artisanal fishermen rather than the rich mechanized boat owners ensuring that there is a reasonable social homogeneity among its members.
1. Base of the Pyramid Protocol Case Study
2. ICMR Case Collection
3. Case Study Volumes
Related Links
Related Case Studies
Useful links