Executive Interviews
on Leadership
on Change Management
on Global Strategy
on Corporate Entrepreneurship
on Multicultural Teams
on Family Business
on Strategy Execution
on Collaboration
Executive Interviews: Interview with Vivekanadan on Bottom of the Pyramid
November 2008 - By Prema Ramachandran

---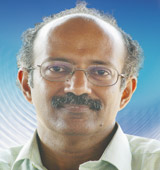 Vivekanadan
Former CEO of South Indian Federation of Fishermen Societies

Vivek, you hail from a middleclass background. After finishing an engineering program what prompted you to join IRMA for a master's degree in Rural Management?
Three factors contributed to my joining IRMA:

family background,
my reading and activism during college days and
chance factors that opened up a new fork on my career path.

Family Background
Though I come from an urban middleclass background, the family's history is not all that typical. My father and his elder brother had both taken part in the freedom struggle as youngsters, been attracted to Communism, spent time in jail and subsequently went "underground" as a result of their espousal of revolutionary ideas. However, by the time I was born, my father had decided to "settle down" to "normal life", giving up politics and was working as a journalist. Unfortunately, he died when I was just nine, giving me very little opportunity to learn from him. Still, he left behind a legacy that influenced me.

I had great pride that my father was a freedom fighter and this in turn predisposed me to take interest in society at large. I was taught to revere the great leaders of the freedom movement. I still remember, as a six year old, clutching my parents' hands and walking in a silent procession in Madras to mourn Pandit Nehru's death. During my high school days, history was a favourite subject and the freedomstrugglewasmy favourite topic. I used to feel a sense of loss that Iwas born after the excitementwas all over and could only read about it.

My mother, though from a more conventional background, was one of the first women of her times to get a PhD in a new discipline like Biochemistry. Her elder sister had been bold enough to marry a Muslim against the family's wishes and had even been disowned by my maternal grandfather. My aunt actually attended my parents' wedding as my father's invitee when he heard the story from my mother. Thus there was a strong streak of idealism and progressive thinking on my mother's side as well, though her family had neither involvement in public life nor taken to revolutionary ideas.

The untimely demise of my father at the age of 39 left my mother a young penniless widow with three children (my two younger sisters and me) to bring up. We had to fall back on the support of my mother's siblings for a couple of years before my mother could establish herself in the academic world as Professor of Biochemistry and independentlymanage the task of bringing us up. This trauma in her life and the subsequent struggles to overcome the challenge of providing for us, made my mother somewhat risk averse and she worked hard to ensure that I got my engineering education and my sisters got their medical education.

Another influence in my life was my father's elder brother who remained life-long in the Communist Party and was an active politician right throughout. Through him I got glimpses of the public sphere and access to radical literature. Though he had chosen public life, he did not wish that I also join public life. He was keen that I go to the Soviet Union (using his contacts in the Party) for my higher education in engineering and technology. So, both my mother and paternal uncle were keen on a professional career for me eschewing all risks that my father (and uncle) had taken in their lives.

College Activism and Exposure to Radical Ideas

During my college days I had been attracted to development work as a result of my association with "service" organizations like the University YMCA and the Rotaract Club. Strictly speaking, these were not radical organizations but they gave me an opportunity to meet people from different walks of life, develop organizational and leadership skills. It is my reading that really made me interested in radical ideas. A voracious reader of children's books and later on thrillers, I found the five year engineering course in a Government College a great opportunity to learn everything other than engineering. I devoured books on popular science, sociology and politics in addition to my addiction to "lowbrow" thrillers.

The late 1970s was a period of great ferment in India with farmers' strikes and a general restlessness among various sections of society and I was anxious to understand the problems and issues facing Indian society. I also got attracted to socialist ideas that I picked up from library books written by "western" authors rather than the official publications of the Soviet Union that adorned my uncle's bookshelves. In that sense I did not "inherit" my early left orientation from my father or uncle.

Chance Factors

Despite this interest in the world around me and a leftist orientation, I had no clue on how to act on my ideas and inclination. Politics had a certain fascination, but I had no real conviction that any of the leaders or parties were worth following. I was fascinated by the rural situation, but I was too well entrenched in my urban middleclass existence that there was no real possibility of doing something radical. In this situation, it was but natural that I also tried to follow the path that my engineering classmates were taking: writing entrance tests for IIMs, attending job Interviews for public sector companies and even taking the IAS preliminary exams. Influenced by some close friends, I also took the TOEFL and GRE and was keen on doing higher studies in engineering at some US university. I actually got very good scores in both TOEFL and GRE, better than some of my friends who actually made it to the US.
1. Base of the Pyramid Protocol Case Study
2. ICMR Case Collection
3. Case Study Volumes
Related Links
Related Case Studies
Useful links