Browse Executive Interviews
By Subject
Publishing Year
Publishing Year
Interview with Bettina Büchel on Decision Making
May 2008 - By Dr. Nagendra V Chowdary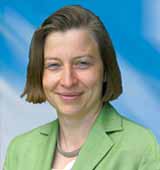 Bettina Büchel is Professor of Strategy and Organization at International Institute for Management Development (IMD) located in Lausanne, Switzerland. Her current research topics include strategy implementation, new business development, strategic alliances and change management.
At IMD, she is the Director of two public programs (OWP and Strategic Leadership for Women) and in company programs and has worked with executive teams to develop and implement strategies. In addition, she has been a consultant in private and public companies in Asia and
| | |
| --- | --- |
| Europe like Nestle, Eli Lilly, Linde, Holcim, UBS, WHO, Telephone Organization of Thailand. Based on her experience, she has written numerous case studies on organizations across the world such as Nestle, BASF, SGS, Holcim, Deutsche Bank, Nira Refinery in India and Legend in China.Büchel is of German origin and grew up in Malaysia. She received her bachelor of Economics and Public Administration at the University of Constance, Germany, her Masters of Human Resources and Industrial | |
She did her post-doctorate at the University of Michigan. After obtaining her Ph.D., she spent four years working as an Assistant Professor at the Asian Institute of Technology in Bangkok where she was teaching MBA and Ph.D. students.She has written seven books on strategy execution, facilitating change, organizational learning, comparative human resources management, joint venture management and communication technology enabled knowledge organizations. Her articles have appeared in leading academic journals.
she can also be reached at bettina.buechel@imd.ch
Useful for Understanding of:
Perceptible difference between women and men in decision-making
Importance of counselors, advisors and mentors in making strategic decisions
Does conflict lead to better decisions
Should executives /leaders engage in a balancing act of decisiveness and indecision.
| | |
| --- | --- |
| Originally Published in | Effective Executive, IUP |
| Effective Executive Reference No. | 03M-2008-05-08-06 |
| IBSCDC Reference No. | INT0067 |
| Year and Month of Publication | May 2008 |
| Keywords | Bettina Büchel, Perceptible difference between women and men in decision-making, Importance of counselors, advisors and mentors in making strategic decisions, Does conflict lead to better decisions, Should executives /leaders engage in a balancing act of decisiveness and indecision |
1. Decision Making Case Study
2. ICMR Case Collection
3. Case Study Volumes
Related Links
Books by Bettina Buchel
Related Case Studies