Browse Executive Interviews
Subject wise
Publishing Year
Publishing Year
Interview with Ravi Ramamurti on Bottom of the Pyramid
November 2008 - By Dr. Nagendra V Chowdary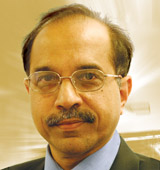 Ravi Ramamurti is CBA Distinguished Professor of International Business & Strategy, and Director of the Center for Emerging Markets at Northeastern University. He was elected a Fellow of the Academy of International Business— one of only 70 in the world—in recognition of his "contributions to the scholarly development of the field of international business."
Ramamurti obtained his BSc (Physics, with Honors) from Delhi University (1972), and his MBA from the Indian Institute of Management, Ahmedabad (1974), where he graduated at the top of his class (gold medalist), and his Doctorate in Business Administration from Harvard Business School (1982). He has been a visiting professor at Harvard Business School; MIT's Sloan School of Management; CEIBS,China; IMD,Switzerland; the Fletcher School at Tufts University; and the Wharton School, University of Pennsylvania.
| | |
| --- | --- |
| Over three decades, his research and consulting have focused on the strategy of firms operating in, or from, emerging economies. He is the author/editor of four books, including Emerging Multinationals from Emerging Markets (Cambridge University Press, 2009). His publications have appeared in leading management journals, including the Academy of Management Review, Academy of Management Executive, California Management Review, Journal of International Business Studies, Journal of World | |
Business, Long Range Planning, Management Science, and World Development.

He was elected in 2003 to serve on the leadership board of the Academy of Management's International Management Division (IMD). He has also been closely involved with the Academy of International Business for more than two decades. He serves on the editorial boards of leading international business journals.
Ramamurti has done research in or consulted with firms and governments in more than 20 emerging economies. He has been a consultant to the United Nations, the World Bank, USAID, and Fulbright. He has also consulted with several private firms in the US and abroad, including Arthur D Little, Bosch, Cognex, EG&G, Masscon IT, Petrobras, Praxair, Reutgers, SK Group (South Korea), Steel Authority of India Ltd., Tata Autocomp, and Wipro.
Useful for Understanding of:
Century of corporate imperialism and century of emerging markets
Strategic inflection point of corporate history
Role of multilateral international bodies like WTO, UNO, IMF
New economic consensus and the new business order?
Factors that influences the CEO agenda
Critical principles to form and manage successful collaboration programs.
| | |
| --- | --- |
| Originally Published in | Effective Executive, IUP |
| Effective Executive Reference No. | 03M-2008-11-07-06 |
| IBSCDC Reference No. | INT0025 |
| Year and Month of Publication | November 2008 |
| Keywords | Prof. Ravi Ramamurti, Century of corporate imperialism and century of emerging markets, Strategic inflection point of corporate history, Role of multilateral international bodies like WTO, UNO, IMF, New economic consensus and the new business order?, Factors that influences the CEO agenda, Critical principles to form and manage successful collaboration programs |
1. Bottom of the Pyramid Case Study
2. ICMR Case Collection
3. Case Study Volumes