Executive Interviews
on Leadership
on Change Management
on Global Strategy
on Corporate Entrepreneurship
on Multicultural Teams
on Family Business
on Strategy Execution
on Collaboration
Executive Interviews: Interview with Colonel Steven Mains on Knowledge Management
July 2008 - By Dr. Nagendra V Chowdary

---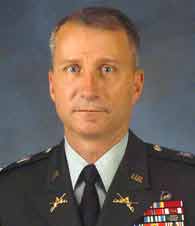 Colonel Steven Mains
Colonel Steven Mains serves as the Director of the Center for Army Lessons Learned, part of the US Combined Arms Center at Fort Leavenworth,
Kansas.

Of all the types of organizational settings, an army is a completely different organizational setup requiring and exacting secrecy and confidentiality. In such an organizational setting how do you ensure knowledge collaboration? There are risks after all. What kind of checks and balances, if at all, should be there?
Most of what we do requires surprisingly little security. Our doctrine is completely unclassified because it is only a toolbox that a craftsman uses to build his creation. Buying (or stealing) an expensive toolkit does not make me a master carpenter. I need to train to use it. I need to think deeply
about my craft. I need to discuss it with peers and experiment with ideas. If we made the tools classified, few could access and practice with them, to our detriment. There are real secrets, of course. When and where the attack will occur is the classic example. One minute after the attack kicks off, however, the secrecy is irrelevant because the enemy knows we are there. We need to be ready to move things down the classification ladder quickly to share knowledge for the benefit of all our forces. And I would say that lesson relates to business as well. Substitute attack with the word acquisition and you see what I mean.

Have you found any patterns in large organizations with respect to their KM approaches? What would you say have been same of the key developments in KM discipline in the last 20 to 30 years? How would you assess the current state of the practice of KM?
I admit I am very critical of most KM efforts. I think our field has oversold KM as some kind of silver bullet or cure all, to our own detriment. Many have sold KM as a way to cut people costs, when in fact, it will not save people at all. There has to be people in the loop to make it work. And I have never seen a KMproject technology was simply laid onto the old structure that it succeeded. That just adds more work onto the existing employees. After the initial excitement over the new technology dies out, everyone goes back to what they were doing before.What KMwill do, if it is done right, is make the company better. We have to remain focused on the idea that it isnt what the organization costs, but what it makes that counts. KM, of which lessons learned is a part, is all about increasing the bottom line however that is measured, in my business, it is missions accomplished and lives saved, but it is equally true in any business. The increase in productivity has to outweigh the implementation costs and I think good KM can do that. There are no silver bullets and if someone offers you one, donot walk, run.
1. Knowledge Management Case Studies
2. ICMR Case Collection
3. Case Study Volumes
---
The Interview was conducted by Dr. Nagendra V Chowdary, Consulting Editor, Effective Executive and Dean, IBSCDC, Hyderabad.
This Interview was originally published in Effective Executive, IUP, July 2008.
Copyright © July 2008, IBSCDC No part of this publication may be copied, reproduced or distributed, stored in a retrieval system, used in a spreadsheet, or transmitted in any form or medium electronic, mechanical, photocopying, recording, or otherwise without the permission of IBSCDC.