Executive Interviews
on Leadership
on Change Management
on Global Strategy
on Corporate Entrepreneurship
on Multicultural Teams
on Family Business
on Strategy Execution
on Collaboration
Ad
Executive Interviews: Interview with Jessica Lipnack and Jeffrey Stamps on Building High Performance Teams
May 2009 - By Dr. Nagendra V Chowdary

---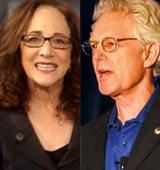 Jessica Lipnack and Jeffrey Stamps
Jessica Lipnack, CEO, and Jeffrey Stamps, Ph.D., Chief Scientist, are co-founders of NetAge.

What happens to all such high performance teams in these economic crisis times?
Nothing is static now as change accelerates. Teams either fall apart under the stress, or they reach deep and manage to become more effective and efficient despite the challenges. Virtual teams have more flexibility than collocated teams, and thus are more likely to hold up in tough times. It is also easier, in principle, to balance home and work life. Of course, poor collaboration behaviors sink virtual teams faster than their collocated cousins.

How important is it to sustain high performance teams? How do you think these teams have to be kept focused? What do you think companies should be doing to keep their tempo and temperaments going in these tough times?
Managers are going to have to let go of their tendency to control everything, which is increasingly impossible. Team members must step forward and offer leadership when their skills and experiences are called upon to solve common problems. Leaders must state clear goals, but then know when to follow others on the team to produce results.

What is the role of business schools in equipping the students with the necessary skills and attitudes to be part of either virtual teams or high performance teams?
Business schools have not traditionally stressed the benefits and behaviors of collaboration; have typically focused on individual achievement and competition instead. It is not enough to just expose students to the new technologies or have them work together in small study groups, but there is a need to redesign at least some teaching processes to better reflect the real world of virtual work. Finally, the increased interest in the "double bottom line" – paying attention to both financial and social results – speaks of the greater ethical requirements of virtual work, where values hold people together rather than command-and-control hierarchies.
---
The interview was conducted by Dr. Nagendra V Chowdary, Consulting Editor, Effective Executive and Dean, IBSCDC, Hyderabad.
This interview was originally published in Effective Executive, IUP, May 2009.
Copyright © IBSCDC No part of this publication may be copied, reproduced or distributed, stored in a retrieval system, used in a spreadsheet, or transmitted in any form or medium – electronic, mechanical, photocopying, recording, or otherwise – without the permission of IBSCDC.
Related Links
Related Case Studies
Useful links
Ad