Course Case Mapping For Organisational Behavior
One of the preliminary and standard MBA courses is Organisational Behaviour. Many argue that it is one of the most glamorous courses in MBA programme. IBSCDC's Course Case Mapping on Organisational Behaviour is being mapped for Stephen P. Robbins' text book. The details of this course map are given here under:
Organisational Behavior Case Mapping
Organisational Behavior Course Case Pack - Other Information
The 'Three Themes' of this Course are

Individuals' – Behaviour in an Organisational Context
Groups/Teams' – Behaviour in an Organisational Context
Organisations – How do these 'Artificial Persons' Behave?
This Course Seeks to Address the Following Questions

What is the importance of OB course for a manager and what can we learn from the evolution of industrial psychology into a distinct body of knowledge for organisations and management? Why is people management the most important function of any manager?
Why do the individuals and teams/groups behave the way they do? What are the underlying dynamics governing their behavior?
What are the unifying mechanism that can connect seamlessly organisational behavior and individuals' behavior?
What it takes to be an effective manager? What great leaders do?
How can organisations extract the potential of their employees? What organisational processes can help the employees to deliver the best?
Why Organisational Behaviour Course for an MBA?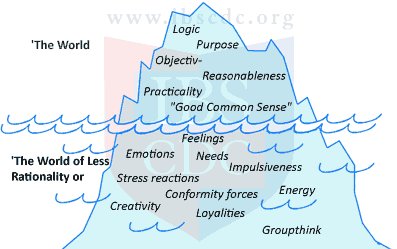 Source: "Behavior in Organizations: An Experimental Approach", A.B.Rami Shani and James B.Lau, 8th edition, McGraw-Hill/Irwin
Widely used Books for Organisational Behaviour

"Effective Executive", Peter F. Drucker
"I'm O.K You're O.K.", Thomas Harris
"Games People Play", Eric Berne
"The 7 Habits of Highly Effective People", Stephen R. Covey
"What Management Is", Joan Magretta
Hollywood Classics

The Pursuit of Happyness
Goal II: Living The Dream
Good Will Hunting
Notting Hill
Jerry Maguire
Must-read Article Inventory

Managing Oneself, Peter F. Drucker (HBR, March–April 1999)
"What Makes an Effective Executive", Peter F. Drucker (HBR, June 2004)
"They're Not Employees, They're People" Peter F. Drucker (HBR, Feb. 2002)
"How to Make People Decisions", Peter F. Drucker (HBR, July-August 1985)
"How Hardwired is Human Behavior" (HBR, July–August 1998)
"Building Competitive Advantage Through People" (SMR, Winter 2002)
"The Manager's Job: Folklore and Fact", Henry Mintzberg (March–Apr 1999)
"Manage Your Human Sigma" (HBR, July–August 2005)
"The Discipline of Teams" (HBR, 1993)
"What Great Managers Do" (HBR, March 2005)
"What Great Leaders Do" (HBR OnPoint Collection)
"What Makes a Leader", Daniel Goleman (HBR, 1998)
"Power is the Great Motivator" (January 2003)
"Make Your Values Mean Something" (HBR, July 2002)
"Understanding "People" People" (HBR, June 2004)
"The Human Moment At Work" (HBR, Jan.–Feb. 1999)
"The Four Principles of Enduring Success" (HBR, July–August 2007)
"The Passive-Aggressive Organization" (HBR, October, 2005)
"Teaching Smart People How to Learn" (HBR, May–June, 1991)
"The Leader's New Work: Building Learning Organizations" (SMR, Fall 1990)
"Education for Learning", Chris Argyris
"Is Yours a Learning Organization" (HBR, May 2008)
"Unleashing the Power of Learning: An Interview with BP's John Browne" (HBR, September–October 1997)
"Give Me That Old-Time Motivation" (HBR, July–August 2006)
"One More Time: How Do You Motivate Employees" (HBR, 1968)
"Job Sculpting: The Art of Retaining Your Best People" (HBR, Sept.–Oct. 1999)
"Real Reason People Won't Change" (HBR, November 2001)
"The Four Bases of Organizational DNA" (s+b)
"Home Depot's Blue Print for Culture Change" (HBR, April 2006)
"Managing Without Managers" (HBR, Sept.–Oct. 1989)
"Leading By Leveraging Culture" (CMR, Summer 2003)
"Power and Politics in Organizational Life" (HBR, May–June 1970)
"Competent Jerks, Lovable Fools and the Formation of Social Networks" (HBR, June 2005)
"Building the Emotional Intelligence of Groups" (HBR, March 2001)
"Managing Multicultural Teams" (HBR, November 2006)
"The Five Minds of a Manager" (HBR, November 2003)
"Firing Up the Frontline" (HBR, May–June 1999)
"Level-5 Leadership", HBR, January 2001
Introduction to Organisational Behaviour Case Mapping
Buy This Case Pack
Course Pack contains
29 Case studies + 11 Structured Assignments + 24 Teaching Notes
2 Executive Briefs (Video Case studies)
3 Video Interviews
19 Executive Interviews
Related Links